Audio clip: Adobe Flash Player (version 9 or above) is required to play this audio clip. Download the latest version here. You also need to have JavaScript enabled in your browser.
The Third reason we see why the soul is valuable is because God sent His Son to die on a cruel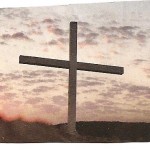 cross for us. In Romans 5:8 it says: "But God demonstrates His own love toward us, in that while we were yet sinners, Christ died for us."
This is an amazing verse of scripture:
God loved us when we were at our worst!
* God loved us even when we didn't care a bit about Him.
* God loved us when we were using His name in vain!
* God loved us and loves us unconditionally!
We, many times, look at the outward appearance of a person,we think if a person is successful, has a good job, dresses well, is a good citizen, has a good family,  a good personality, then we think that person has value. That wonderful pastor we know, and that missionary in some far off land- we think they have valuable souls, and of course they do….. But…. what about that drunk on skid row, and how about that prostitute on Henipen Avenue in Minneapolis? Maby you know someone right now that's not living right, and you think that person doesn't have much value, if any value.
But if that drunk on skid row and that prostitute would have been the only people in the world Jesus would have died for them, because God is concerned for your soul, for your soul has more value than the whole world! "For what will it profit a man if he gains the whole
world and forfeits his soul?" Matthew 16:26
The Crucifixion and Resurrection of Jesus Christ
For Christians Easter is the most significant time of the year, commemorating the crucifixion and burial of Jesus Christ, and celebrating His resurrection on Sunday.
Jesus Christ Crucifixion Wallpaper
Above given are 12 wallpapers showing the Crucifixion of Jesus Christ. Click on the thumbnails to see the original pic of large dimensions.
Christ and the Crucifixtion" by Todd Lawson Todd Lawson recently released a thoroughly researched book titled Christ and the Crucifixion.
The idea that Jesus survived crucifixion and visited Kashmir was first raised in the 1973 book "Christ in Kashmir," by local journalist Aziz Kashmiri. Several other books followed it.
Christ's Crucifixion and Resurrection
The Chronology of Christ's Crucifixion and Resurrection Tuesday Jesus ate an early-evening Passover meal with His disciples.